Lowe's included 2 197 locations in North America as of 31 December 2021. This included 1 737 locations in the United States and 61 stores in Canada operated by Lowe's and operating under the Lowe's name. It also included 173 Rona locations in Canada operated by Lowe's and 226 dealer-owned associated stores supplied by Lowe's. In Canada, Lowe's had acquired the Rona retailer in May 2016, which included both Rona-operated and dealer-owned stores.
Compared to the end of 2017, at the end of 2021, the total number of locations counted as part of Lowe's decreased slightly from 2 233 to 2 197, a drop of approximately 1 6 per cent. It should be noted that Lowe's closed its 13 Lowe's locations in Mexico in April 2019. In the United States, the number of locations decreased minimally (down 0.2 per cent) from 1 740 to 1 737 between the end of 2017 and the end of 2021. In Canada, the number of Lowe's branded locations decreased slightly from 63 at the end of 2017 to 61 at the end of 2021 (down 1.2 per cent).
In the United States and Canada, the company's Lowe's locations averaged approximately 10 500 square feet of retail space per location at the end of 2021. The situation is different for the Rona stores in Canada: here, an average location came to about 1 750 m² of sales space at the end of 2021, with this ranging from 465 to 15 330 m².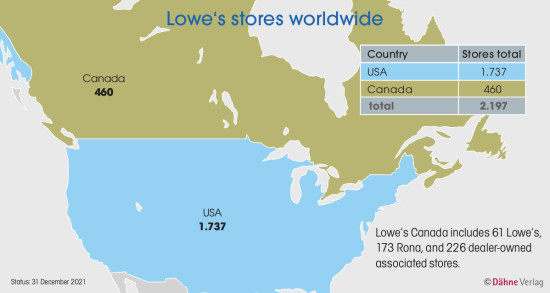 The data are excerpts from the publication DIY Retailers worldwide, a unique data collection on the worldwide DIY trade with information on 455 DIY retailers in 88 countries.