Home Depot, the world's largest operator of home improvement stores in terms of sales, operated 2 317 DIY locations at the end of 2021. Compared to the previous year, this represents a slight increase of 21 new stores, or 0.9 per cent.
Most locations were operated in the United States, where a total of 1 994 stores existed at the end of 2021. Here, the number increased by around 1.0 per cent compared to the previous year, when 1 975 stores were operated. The second most important country was Canada, where the number of stores remained the same between 2020 and 2021 at 182 each. Mexico follows in third place. Here, 129 stores were operated at the end of 2021, an increase of around 1.6 per cent or 2 stores compared to 2020.
Other stores operated in 2021 were in the unincorporated US territories of Puerto Rico (9 stores), the Virgin Islands (2 stores) and Guam (1 store). The number has not changed compared to 2020.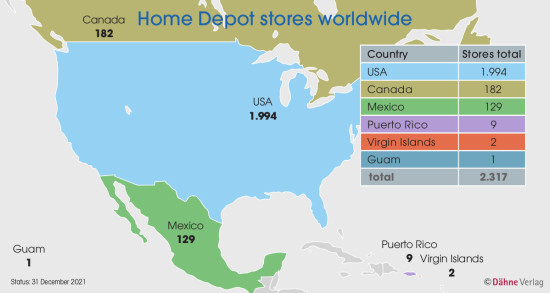 On average, a Home Depot store in the US came in at around 9 300 m². of selling space at the end of 2021. In Mexico, the average sales area was most recently around 6 100 m² and in Canada around 10 600 m².
Furthermore, 153 warehouses and distribution centres in the USA belonged to the company.
This data are excerpts from the publication DIY Retailers worldwide, a unique data collection on the worldwide DIY trade with information on 455 DIY retailers in 88 countries.