Initially, the summary of DIY stores in Germany for the year 2021 doesn't sound so bad: compared with 2019, the industry was still in plus, explains Peter Wüst, managing director of the German DIY association BHB at the digital congress eBHB at the end of November. He said that if coronavirus-adjusted comparisons were made between the second and third quarters of 2019 and 2021, the increase in sales amounts to around 10 per cent. Wüst is certain that other industries would have performed much worse in this case.
However figures provided in the more detailed analysis by market researcher Klaus Peter Teipel sounded more sobering. Last year, home improvement stores in Germany are set to experience a 9.1 per cent downturn in sales compared with the record year of 2020, according to Teipel's forecast. He stated, however, that "if the special effects of 2020 are taken out, we are on an entirely normal growth curve". This is because, compared with 2019, a sales volume of EUR 23.9 bn in 2021 equates to an increase of 3.9 per cent. In comparison: in 2020, sales by German DIY stores soared by 14.4 per cent to a volume of EUR 26.3 bn.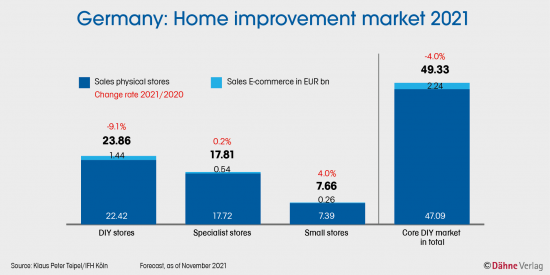 On the other hand, the forecasted data indicate that speciality garden centres grew by 10.0 per cent last year compared to 2020. Together with other specialist store distribution channels and small businesses, garden centres and DIY stores form the "classic DIY core market" in Teipel's systematic. This core market shrank by 4.0 per cent to a volume of EUR 47.1 bn in 2020.
Yet the individual product groups performed very differently in terms of the overall market (so not only DIY stores). The extreme cases: the wood product range grew by 16.1 per cent, wallpapers and paint collapsed by 11.6 per cent. In DIY stores, it was only this product range which even grew slightly (plus 3.7 per cent). All other product groups made significant losses, often in double-digit percentages.
The forecasts for the current year are also cautious and the average scenario indicates a modest drop in sales of 0.2 per cent for home improvement stores. Teipel stated clearly, however, that "Germany is still a DIY country, the demand trend is uninterrupted". According to Teipel's analysis, demand remains strong in the product groups relevant for larger customer projects.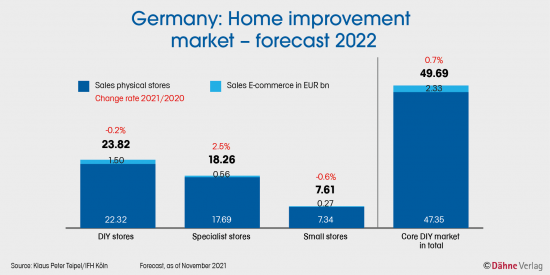 The growth rates in e-commerce with core DIY ranges have virtually halved this…