Iceland may not be the first thing most DIY insiders think of when it comes to new DIY store concepts. But the 103 000 km² island at the northern edge of Europe is considered to be quite competitive. After all, four retail companies vie for the favour of the 364 00 inhabitants.
Against this background, it seems very plausible that one of the most modern concepts has now celebrated its premiere on the northern coast of the Nordic island. In Akureyri, the Icelandic chain Husasmidjan, which is owned by the Danish Bygma Group, opened the pilot store for its new image in April. The concept for this relaunch was developed with the British consultancy M Worldwide, which specialises in developing brand experiences across digital and physical touchpoints.
David Martin, joint managing director of M Worldwide, explains the new concept as follows: at Husasmidjan, it was found that the previous appearance was very strongly characterised by functional aspects – and thus "less attractive for female customers in particular". Moreover, in certain categories, such as flooring or bathroom, specialists are "providing much better showrooms with a better shopping experience and better advise".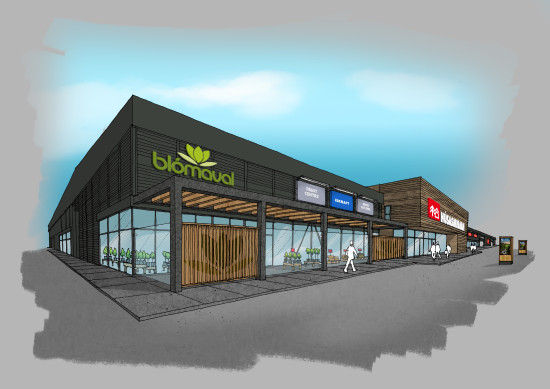 But that is only one side of the story, because Husasmidjan makes around 60 per cent of its turnover with trade and building professionals and around 40 per cent with retail customers. It has specialist brands under its umbrella: Iskraft electrical wholesale, trade timber, plumbing and building materials along with specialist doors and windows.
So, says David Martin, it was a "tricky challenge" to meet the company's requirements on 5 000 m²: on the one hand you have the trade customers, "and for them time is money", and on the other hand the expectations of end consumers as customers. The fact that Husasmidjan also has its own garden centre format under the Blómaval brand docked to its locations, which also had to be taken into account by the relaunch, did not make the task any easier.
"Retail convenience is a key aspect," is how David Martin sums up these requirements. The challenge was therefore "to provide an experience store format that supports that".
"
Retail convenience is a key aspect
Of course, there is more to developing a new store concept than just sprucing up the sales floor. This is exactly why Husasmidjan hired the transformation specialists from Great Britain: it was all about developing a retail…