John Herbert, CEO of the international DIY association Edra/Ghin, spoke of a record turnout today at the start of the second virtual DIY Summit. The world is in a situation that has never been experienced before. Despite all the current adversity, the industry is experiencing a boost, Herbert said. The market is growing, he said, and even though next year's sales figures are not expected to reach 2022 levels, they are still above those from 2019. Sergio Giroldi, president of Edra/Ghin, expressed his conviction that the current challenges will continue. Therefore, it is important that trade and manufacturers pull together, he underlined. Reinhard Wolff, president of the International Manufacturers' Association HIMA, agreed with him. He said goodbye to the Obi managing director, who is retiring at the end of the month: "You have invested all your energy and time for the industry - an admirable commitment."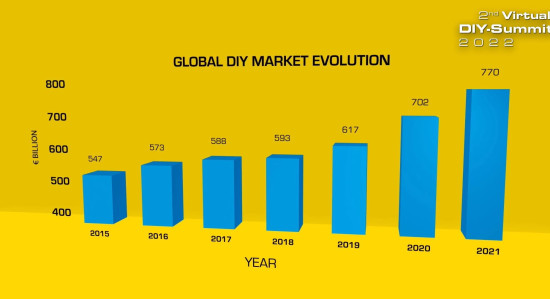 Michael Grampp, Chief Economist & Research Director of Deloitte in Switzerland, gave an outline of the current economic and political situation around the globe. Initially, there had been a sharp downturn as a result of the pandemic. In the meantime, the figures have improved, but are not yet at pre-crisis levels. In addition, there are now a number of challenges, such as rising prices or the shortage of skilled workers. At the same time, he sees great opportunities for the industry through an increasing share of the middle class, the so-called consumer class. This is the target group that needs to be addressed.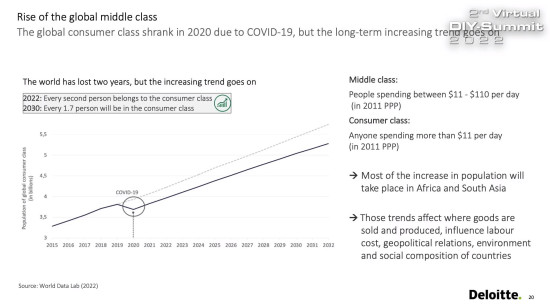 In his keynote speech, Sergio Giroldi addressed the challenges that retailers will have to master in the future. For example, a lower disposable income in the population means that consumers are forced to spend their money on fulfilling basic needs. In addition, there is great uncertainty about the future, both in the private sector and for companies. The industry is at the beginning of a digital revolution. In addition, one has to ensure, each day anew, that the customer is placed at the centre of the business. It is also important to demonstrate agility in a time when all changes are happening faster. But the most important change is affordability, he stressed – as he did earlier at the Global DIY Summit in Copenhagen. "We need to give customers the opportunity to improve their quality of life at an affordable price."