The Canadian lighting manufacturer Artika opened a distribution centre in Northampton, England last year. In 2022, a second followed with an exhibition area in Roermond, the Netherlands. "Following our great success on the American continent, we now want to focus on the European market and are delighted that we have established ourselves in the Netherlands and Great Britain," the company's European director, Thomas Callens, emphasised. "We are now starting deliveries to France, Germany, Spain, Italy, Switzerland, Poland and Romania and are ready to invest all the necessary resources to develop our brand in Europe."
"
We are ready to invest all the necessary resources to develop our brand in Europe.
The products are now available online at ManoMano, Conforama, Bol.com and in the stores of the global retailer Costco. "Leroy Merlin, Jumbo and Bauhaus will soon be adding a large number of our products to their stores," Callens continues.
Established in 2007, the Montreal-based company is now represented on three continents as well as in 20 countries, and operates its purchases directly from four countries. In addition, Artika has seven warehouses and five sales and marketing offices around the world. The manufacturer currently generates sales of over USD 200 mio per year, with online trading accounting for 10 per cent of sales. This has led to continuous growth of over 63 per cent over the past three years, the director highlights.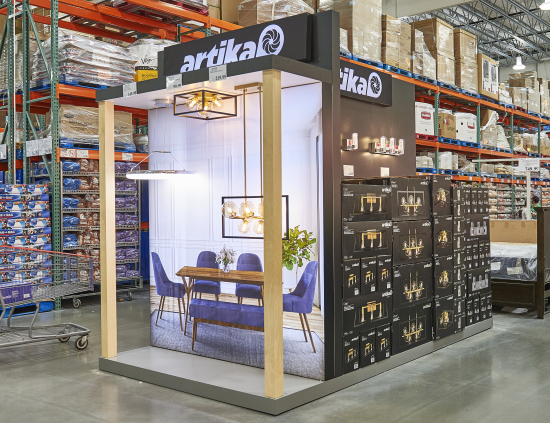 The supplier designs and develops its lighting and other products in the company's own departments for industrial design and electrical engineering. In doing so, it places particular emphasis on trends and innovations. Artika holds more than 100 patents for designs and, as the Canadian emphasises, in addition to the use of advanced manufacturing methods, it is very much committed to quality control and certification of its products. The range offers a wide selection of lighting for all rooms of the home as well as a collection of articles for sanitary and shower organisation. The models are versatile, modern, durable, energy-efficient and of value for money, highlights Artika.