The 20 largest German DIY retailers increased their combined sales in 2022 by 5.8 per cent to EUR 38.436 bn (gross). The figures, which German trade journal diy-Fachmagazin has published in advance from its standard work Statistik Baumarkt + Garten DACH, include both domestic and foreign sales.
The year was generally assessed as difficult in the industry. This is also indicated by the very different growth rates, which have to be viewed in relation to the inflation rate (7.9 per cent in Germany on an annual average).
With sales of EUR 8.664 bn, Obi is still the largest German DIY company. The fact that it is one of the few players in the top 20 to report a decline in sales of 0.3 per cent is due to the war in Ukraine: the company gave up its 27 stores in Russia shortly after the Russian aggression began. On a comparable basis, turnover would have grown by around 6.5 per cent.
In contrast, Bauhaus, the runner-up, has grown by 8.3 per cent and achieved sales of around EUR 7.850 bn. In the German market, Bauhaus is now on a par with Obi, the previous market leader for many years. Both companies achieved sales of around EUR 4.4 bn; however, Bauhaus grew by around 6.0 per cent, Obi by only 4.4 per cent.
Hornbach posted the highest growth rates. The number three in the German DIY sector increased its sales at home and abroad by a total of 12.0 per cent to EUR 6.900 bn. Kaes grew equally strongly, but at a much lower level, with annual sales of EUR 76 mio (18th in the ranking).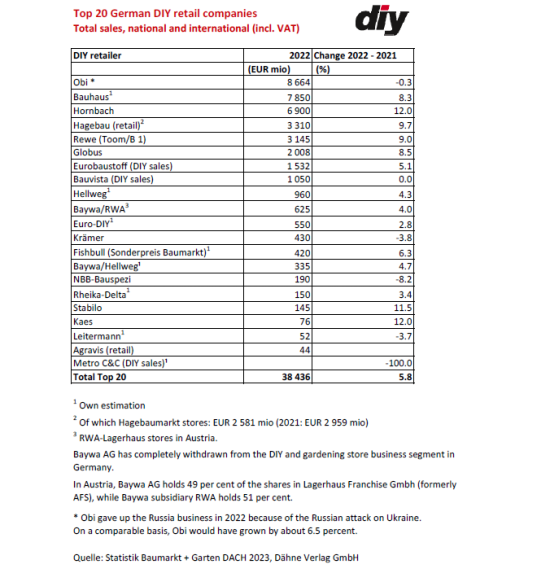 The Hagebau retail organisation with the Hagebaumarkt and Werkers Welt sales lines also had a strong growth rate of 9.7 per cent in 2022. With turnover of EUR 3.310 bn, the cooperation still occupies fourth place in the rankings.
With a plus of 9.0 per cent, Rewe's DIY business with the Toom and B 1 sales lines also grew strongly. Globus Baumarkt (plus 8.5 per cent) is also one of the biggest winners among the top 10. The only company in this top group - apart from Obi - that did not show any growth in sales was Bauvista (0.0 per cent), the building materials trade and DIY cooperative; however, it also has 37 fewer stores than a year ago. Within the top 20, Krämer (-3.8 per cent), NBB-Bauspezi (-8.2 per cent) and Leitermann (-3.7 per cent) lost ground.
The Statistik Baumarkt + Garten DACH is considered a standard work in the German, Austrian and Swiss DIY and garden industry. The current issue will be published in May.
Pre-order now: The new ranking of DIY and home improvement stores in Germany
The Baumarkt + Garten statistics provide all the key figures on DIY and home improvement stores and garden centers in Germany, Austria and Switzerland as of December 31, 2022.
The solid data basis and source of analysis for decision-makers in the sector, as well as for management consultancies, market research companies and associations.
Solid data.
From real experts.
Comes out in May 2023.