A new constellation emerged at the top of the German DIY market last year as Bauhaus caught up with the previous market leader Obi in the sales rankings.
Initial data from the Baumarkt + Garten 2023 statistics show that both companies achieved sales of around EUR 4.4 bn in Germany in 2022, after Obi grew by 4.4 per cent and Bauhaus by around 6.0 per cent. On average, the top
6 in the German DIY retail sector increased their sales by 7.8 per cent, resulting in a combined turnover of EUR 20.217 bn. The new statistics volume from Dähne Verlag will be published in May.
The rankings otherwise remain unchanged. Obi and Bauhaus are followed by Hornbach, which, like Globus in sixth place, achieved growth of 9.4 per cent. In between is Rewe with the Toom and B1 stores as well as the Hagebau retail operation. This cooperative achieved the highest growth rate among the top six in 2022 at 11.9 per cent.
The initial response of Peter Tepaß, chief officer CE at Obi and thus responsible for the German market, was to express confidence: "We are all currently experiencing economically challenging times - for each and every one of us and, from an entrepreneurial point of view, not just for the DIY sector. But even in these times, Obi presents itself as crisis-proof and well positioned for the future. Our annual sales of 4.4 billion euros in 2022 are a stable result with which we have started the current financial year optimistically," says Tepaß, who at the same time emphasises Obi's economic resilience and the commitment of its employees. "We know our path for the next few years, have a clear growth strategy and firmly believe in the holistic dovetailing of offline and online business and our role as a reliable and strong partner for our customers," emphasises Tepaß.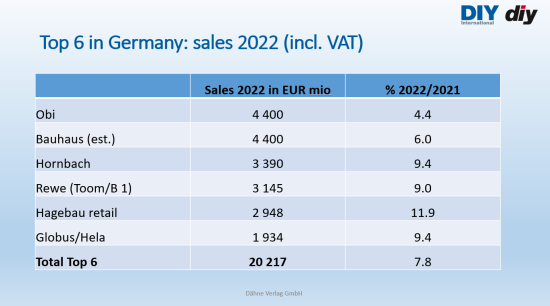 The new ranking of the German DIY retail
The Baumarkt + Garten 2023 statistics provide all the key figures on DIY stores and garden centers in Germany, Austria, and Switzerland. It will appear in May 2023. Also available by subscription with a 10 % discount on the respective individual price.
Pre-order now HERE.