Cobbler, stick to your last - a saying that we usually mean in a negative way. We should rather stick to the things we are familiar with. Much less often do we think of this as positive encouragement: we should reflect on our strengths and play to them. This is precisely the concept pursued by the Van Uytsel Tuincentrum in Kontich, Belgium, just 15 km south of Antwerp. Because the strength of the garden centre, and of the Van Uytsel family business in general, has always been and still is: plants as far as the eye can see, from the size of a cup to the height of a man. Accordingly, green goods are the focal point of the entire store, while the remaining assortment plays a clearly subordinate role.
The centre in northern Belgium was founded in 1976 by Jan and Frans Van Uytsel, who are both still actively involved in the store. "They both come from an agricultural background, originally growing tomatoes, and later switched to flowers. Frans is also still very well known and respected by the customers," reveals son Ben Van Uytsel in conversation with diy. What started out as a small B2C flower nursery with sales has now grown into a modern garden centre with around 20,000 m² of retail area - it was only in 2021 that the building was extended from seven to eleven "arches" to create even more space for the wide range of plants.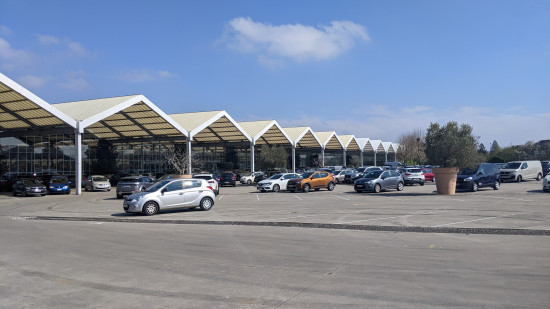 Roughly speaking, the Van Uytsel can be divided into three areas. On the left is the entrance area as well as an adjoining café - which opened back in 1996 - and a cut flower station, which offers freshly made bouquets and arrangements as part of the range and prepares them according to customer wishes. Also located there are a small pet assortment and plant pots - the self-defined motto at Van Uytsel is "Everything for home and garden", albeit on a moderate scale. However, these sections in their entirety are insignificant when compared with the assortment of herbs, vegetables and flowering plants for indoor use in the left wing. The latter in particular visually dominate the area, sorted from small to large.
But that is only the start. In the middle section there are - apart from decorative items - mainly green plants in abundance. In the outer right section is the outdoor department: greenery, flowering and fruit plants for outdoors await alongside the selection of trees and the soil range…