These must be golden times for the world's five largest DIY retailers. According to an analysis by DIY International, they have increased their sales per square metre of sales space by between 10.8 and 53.8 per cent in the past six years (2015 to 2021). The American retailer Lowe's grew the most at 53.8 per cent, followed by the American retailer Home Depot at 46.1 per cent. In third place was the American cooperative Ace Hardware, which increased its space productivity by 19.5 per cent to 3,502 euros per m² at the end of 2021. The two European operators Groupe Adeo and Kingfisher were also able to increase sales, even if their growth was much lower at plus 12.3 per cent (Groupe Adeo) to 3,580 euros per m² and plus 10.8 per cent (Kingfisher) to 2,799 euros per m². On average, all of the top 5 operators increased their space productivity by 28.5 per cent between 2015 and 2021.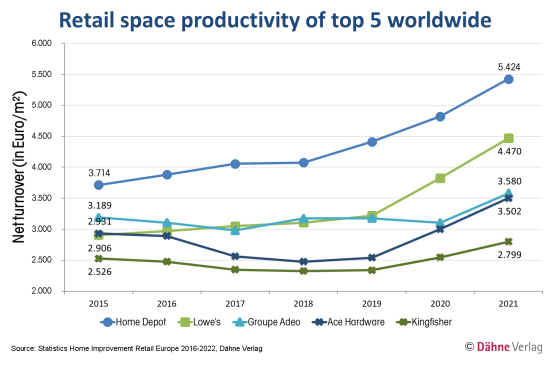 It is striking that the three American operators in particular performed above average, while the European operators grew below average. Currency effects between the US dollar and the euro as well as the British pound are unlikely to have played a role. For example, the three American operators made above-average gains specifically between the end of 2018 and the end of 2021. This was while the US dollar to euro exchange rate was relatively stable between December 2018 and December 2019 at 1.14 euros per dollar and 1.12 euros per dollar, before rising to 1.22 euros per dollar at the end of 2020 and then falling back to 1.14 euros per dollar at the end of 2021. Since the conversion is made in euros in each case, the temporary drop in the US dollar at the end of 2020 was actually negative for the presentation of the US figures. With time shifts, this also applies to the development of the British pound compared with the euro.
On average, companies gained 7.4 per cent (Lowe's), 6.5 per cent (Home Depot), 3.0 per cent (Ace Hardware), 1.9 per cent (Groupe Adeo) and 1.7 per cent (Kingfisher) in sales per square foot per year between 2015 and 2021. In real terms, the biggest increase was recorded by Home Depot with 1,710 euros per square metre, followed by Lowe's with 1,564 euros, Ace Hardware with 571 euros, Groupe Adeo with 391 euros and Kingfisher with 272 euros.