"Avoidance is better than reduction" – this was the motto of the Natureline project launched over two years ago by the precision tool manufacturer Exact GmbH & Co. "With the development of sustainable product packaging, we want to be a trendsetter in the tool industry," explains managing director Andreas Oemkes. He stresses that "we need to get plastic, polystyrene, foams and such like out of our thinking, but above all out of our processes".
It is possible with Natureline to establish a zero-waste cycle in the entire industry, says the company boss with conviction. "We have long been convinced that plastic-based product and logistics packaging is the best solution in terms of product protection and transport," says Oemkes. But by working with experts from the packaging industry, he says, they came to the conclusion that environmentally friendly and intelligent packaging alternatives that met all industrial requirements could also be used for precision tools.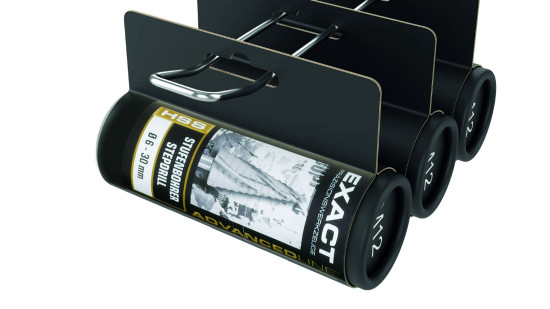 Before plastic packaging became standard in the tool industry, sheet steel cassettes were widely used. At that time, many manufacturers wondered whether the end customer would accept the new plastic packaging at all. But it proved successful and within a very short time, the sheet steel cassettes were replaced by the new plastic versions. Exact now expects such a change with its Natureline products as well.
The material used consists wholly of renewable raw materials, with the fibre basis being composed entirely of waste paper and natural materials such as hemp or similar natural fibres. Oemkes explains that the material is completely recyclable, resistant, shock-absorbent and grease- as well as water-repellent. The new generation of packaging can easily be used in global transport logistics. With the help of multifunctional solutions, the packaging volume can also be significantly reduced. In addition, the new concept eliminates possible additional statutory costs such as CO2 taxes or increased levies for plastic packaging.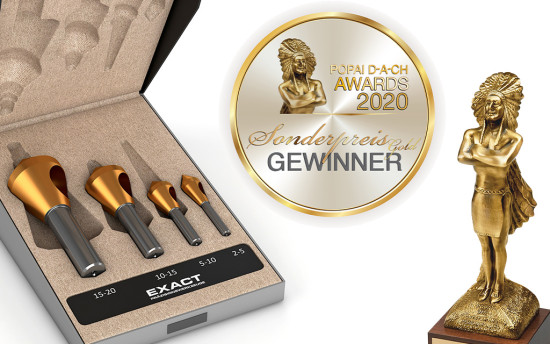 The company says it can already offer the new packaging for the most important groups. The plan is to gradually expand its use. Exact has set itself the goal of wrapping almost 80 per cent of its approximately 8,000 products in an environmentally friendly way. These include thread cutters countersinks, sheet metal/step drills and other precision metalworking tools of various sizes and designs. A catalogue for trade partners that presents the plastic-free packaging is in preparation.