The year 2021 went much better for the German garden industry than for DIY stores – if one wants to use the annual change rates in sales as scale for an assessment. But of course, care should be taken when allocating the figures. Because in the year 2020, there were massive coronavirus-induced upward swings in the sales curve because DIY stores in Germany were not included in the first lockdown. In contrast, there was then the significant decline in the year 2021 after the second lockdown at the turn of the year 2020/2021 in which DIY stores also had to close.
Which figures are currently available (date: end of the year 2021)? In his presentation at the digitally-held congress of the German DIY retail association BHB at the end of November, market researcher Klaus Peter Teipel forecasted a growth of the garden industry of 8.9 per cent for the whole of the year 2021 as projection (of the official figures by the statistics authorities). In comparison: in the case of retail of coating materials, building and DIY requirements, he expected a minus of 9.1 per cent.
With these figures, however, it should be noted that they represent the changes at face value, i.e. calculated in respective prices. But the real growth rates (calculated in constant prices with the base year 2005) in the garden trade are also certainly unusually high for the first two quarters with 8.9 per cent and 5.7 per cent respectively. From July to September there was only a real plus of 0.7 per cent – however this is compared with the same period the year before in which the strong summer months of the first pandemic year 2020 fell.
For the specialist garden centre distribution channel, Klaus Peter Teipel reached hitherto unknown heights in his projection also of growth figures: 10.0 per cent. And also the performance of the distribution channels nurseries and the flower business, classified under specialist garden trade, is suspected to have broken records with a plus of 7.8 per cent.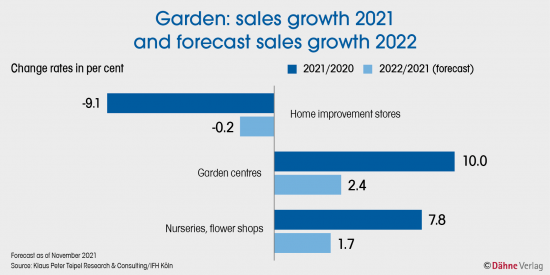 The DIY stores are certainly superior to the garden centres in terms of e-commerce. After all, their share of overall sales generated through the Internet amounted to 6.9 per cent in 2021. It seems that garden centres, with an online share of 2.7 per cent, have got a lot of catching up to do – and it looks like they have recognised this: e-commerce sales by specialist garden centres has risen practically just as much, with a plus of 18.4…